Today's News
LAX Aircraft Cleaner Cited and Fined for Wage Theft
LOS ANGELES -- California has cited an LA-based aircraft janitorial service contractor, Spirit Airport Services, following an investigation that showed the company owed wages to 182 former and current employees. Read More...
Infection Control University Launches Cloud-Based Learning Center
ST. LOUIS -- Infection Control University (ICU), a provider of solutions to reduce Hospital Acquired Infections (HAIs), has launched an online learning center that provides Infection Control Awareness training certification to all hospital and vendor employees who work in healthcare facilities. Read More...
Tennant Posts Record 2Q Sales, Targets $1B Revenues by 2017
MINNEAPOLIS, MN -- Tennant Company, a developer of solutions that help create a cleaner, safer, healthier world, is reporting record second quarter sales as it announced a goal to reach $1 billion in revenues by 2017. Read More...
Cassidy Turley Designated a LEED-EBOM Proven Provider
WASHINGTON -- Cassidy Turley, a commercial real estate services provider, has been designated a LEED-EBOM Proven Provider by the Green Building Certification Institute (GBCI). Read More...
Humantech Gold Certified to NSF Sustainable Provider Program
ANN ARBOR, MI -- NSF Sustainability, a division of public health organization NSF International, has certified Humantech to the Gold level of the sustainability assessment protocol for services and service providers. Read More...
Subway Shops to Disinfect with Pure BioScience
SAN DIEGO, CA -- PURE Bioscience, Inc., developer of the silver dihydrogen citrate (SDC) antimicrobial, has announced that PURE Hard Surface disinfectant has been made available for use in almost 27,000 Subway franchises across the U.S. Read More...
Johnson Controls to Provide Facilities Management for Baptist Memorial
MILWAUKEE -- Johnson Controls, a multi-industrial company, has been engaged by Baptist Memorial Health Care, one of the largest not-for-profit health care systems in the United States, to provide facilities management services at more than 13 sites across Tennessee, Arkansas and Mississippi. Read More...

OdorStar Tech Donates Disinfectant to Liberia and Sierra Leone
FORT LAUDERDALE, FL -- Ocean Bio-Chem, Inc. has announced that its OdorStar Technology, LLC subsidiary is working with two organizations, Friends of Liberia, a non-profit NGO, and the Sierra Leone embassy in Washington D.C. to send donations of its Performacide chlorine dioxide (ClO2) disinfectant and virucide. Read More...
Powr-Flite Answers Common Questions Regarding Floor Care
FORT WORTH, TX -- According to Debby Davis, a floor care expert with Powr-Flite, manufacturer of professional cleaning equipment, her company receives more questions and "more requests for help" regarding floor care issues than any other cleaning task. Read More...
GAF Honored for Supporting Industry with Sustainable Initiatives
WAYNE, NJ -- GAF was selected by GreenWizard as the Category Leader for Roofing in its selection of manufacturers that achieved outstanding performance in green building. Read More...
Industry News
Restroom Upgrade
New Hand Dryer Technology Builds in Efficiency
BY DAN STORTO
Every business today is looking for ways to meet budgets without reducing the impression of a quality environment. Although creating an attractive interior design for your public spaces is important in promoting a positive experience for patrons, the fact remains that every business today has to factor in the need to cut operational costs—even at the restroom level.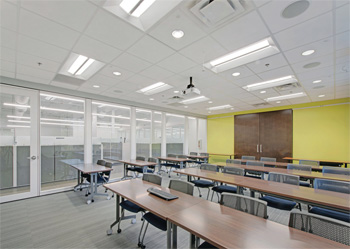 To read this article in its entirety, click here...