Today's News
Ecolab Has Good Third Quarter; Donates $2M to Nature Conservancy
ST. PAUL, MN -- As it announced third quarter profits of $365 million, Ecolab Inc., a provider of water, hygiene and energy technologies and services, has committed $2 million through the Ecolab Foundation to The Nature Conservancy, a conservation organization working to protect the lands and waters on which all life depends. Read More...
IFMA Names Clark VP Corporate Services
HOUSTON, TX -- The International Facility Management Association has named Aaron Clark vice president of corporate services. He started Oct. 27, 2014. Read More...
Clorox Survey Finds Restroom Cleaning a 'Most Important Task'
PLEASANTON, CA -- Most people have a "get in and get out" strategy when it comes to using public restrooms and do not consider what kind of maintenance is put into these facilities on a daily basis. Read More...
RISE to Engineer AEP at Massachusetts Jail for Immigrant Inmates
CRANSTON, RI -- RISE Engineering has been awarded a $3.6 million, competitive-bid contract by the Commonwealth of Massachusetts Division of Capital Asset Management and Maintenance to serve as the lead contractor for a comprehensive energy and water efficiency project at the Plymouth County Correctional Facility in Plymouth, Mass. Read More...
Global hand dryer market expected to reach $930.8 million by 2020
ALBANY, NY -- According to a new market report published by Transparency Market Research "Hand Dryer Market - Global Industry Analysis, Size, Share, Growth, Trends and Forecast, 2014 - 2020," the global hand dryer market is expected to reach a value of USD 930.8 million by 2020. Read More...

EPA Releases Guidance to Improve Schools' IAQ and Energy Efficiency
WASHINGTON --- The U.S. Environmental Protection Agency released new guidance to help school districts protect indoor air quality while increasing energy efficiency during school renovations. Read More...
Industrial Supply Association Names New Prez, CEO
PHILADELPHIA -- Industrial Supply Association, a trade group for the maintenance, repair, operations and production (MROP) supply channel, has named Jeffrey R. Hughes of Winter Spring, Fla. president & CEO. Read More...
Transwestern Tapped to Manage Trophy Office Building in LA
LOS ANGELES -- Transwestern, a property and facilities management company, has announced it has been retained to manage 801 S. Figueroa St., a 24-story, 458,149 square-foot, Class A office building in downtown Los Angeles recently purchased by Cornerstone Real Estate Advisers LLC. Read More...
LAX Aircraft Cleaner Cited and Fined for Wage Theft
LOS ANGELES -- California has cited an LA-based aircraft janitorial service contractor, Spirit Airport Services, following an investigation that showed the company owed wages to 182 former and current employees. Read More...
Infection Control University Launches Cloud-Based Learning Center
ST. LOUIS -- Infection Control University (ICU), a provider of solutions to reduce Hospital Acquired Infections (HAIs), has launched an online learning center that provides Infection Control Awareness training certification to all hospital and vendor employees who work in healthcare facilities. Read More...
Industry News
Restroom Upgrade
New Hand Dryer Technology Builds in Efficiency
BY DAN STORTO
Every business today is looking for ways to meet budgets without reducing the impression of a quality environment. Although creating an attractive interior design for your public spaces is important in promoting a positive experience for patrons, the fact remains that every business today has to factor in the need to cut operational costs—even at the restroom level.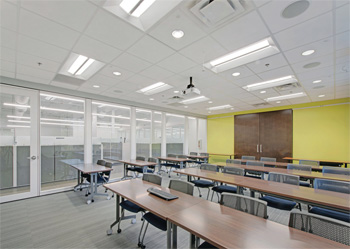 To read this article in its entirety, click here...