Today's News
GAF Honored for Supporting Industry with Sustainable Initiatives
WAYNE, NJ -- GAF was selected by GreenWizard as the Category Leader for Roofing in its selection of manufacturers that achieved outstanding performance in green building. Read More...
H&S Resources Sees Near 300 Percent Revenue Growth in Three Years
COLUMBIA, MD -- Facilities management and logistics provider H&S Resources of Columbia, MD has been recognized by Inc. magazine as one of the fastest growing companies in the United States. The company has achieved 291 percent revenue growth and 260 percent employee growth over three years. Read More...
ITW Pro Brands Targets Hunters, Outdoor Enthusiasts
OLATHE, KS -- Looking to meet the lifestyle demands of its customers, ITW Pro Brands is now offering its popular SRUBS-IN-A-BUCKET pre-moistened hand, tool and surface cleaning towels in a limited-edition hunting package. Read More...
Hygienists Seek Better Ebola Safety for Healthcare Workers
FALLS CHURCH, VA -- As cases of Ebola begin to emerge in the United States, the American Industrial Hygiene Association is urging the President and federal agencies to help the healthcare community emphasize personal protective equipment (PPE) and other safety precautions for healthcare workers. Read More...
Ecolab Opens Nalco Champion Manufacturing Facility in Singapore
SINGAPORE -- Nalco Champion, an Ecolab company, has opened a new manufacturing plant on Jurong Island, Singapore. The new 106,000-square-meter site will supply chemistry solutions for oil and gas companies in the Eastern Hemisphere, helping to increase delivery speeds to customers. Read More...
Flu Survey Shows More Employees to Stay Home when Ill this Winter
FRAMINGHAM, MA -- With the Ebola scare and recent virus outbreaks affecting behavior, a majority of surveyed employees (53 percent) say they will take extra precautions to protect themselves against the flu and other illness this winter. Read More...
Guide to Clean and Decontaminate in Non-Healthcare/Non-Lab Settings
WASHINGTON -- Workers tasked with cleaning surfaces that may be contaminated with Ebola virus must be protected from exposure. OSHA says employers are responsible for ensuring their workers are protected from exposure and that they are not exposed to harmful levels of chemicals used for cleaning and disinfection. Read More...


Green Seal Celebrates 25 Years
WASHINGTON -- Green Seal, the nation's first independent nonprofit certifier of sustainable products and services, celebrated 25 years of environmental leadership at a gala event on Oct. 8 in Washington, D.C., where it honored the 400 companies that have achieved product or service certification in a broad range of industries since Green Seal's founding. Read More...
The 10 Commandments of Carpet Care
PLYMOUTH, MN -- If you go online, you'll find there is a "Ten Commandments" for just about everything. One site has a Ten Commandments of College Life; another has a Ten Commandments of Love Life; there's the Ten Commandments for Kids; and the Ten Commandments for Parents with Kids. Read More...
Industry News
Restroom Upgrade
New Hand Dryer Technology Builds in Efficiency
BY DAN STORTO
Every business today is looking for ways to meet budgets without reducing the impression of a quality environment. Although creating an attractive interior design for your public spaces is important in promoting a positive experience for patrons, the fact remains that every business today has to factor in the need to cut operational costs—even at the restroom level.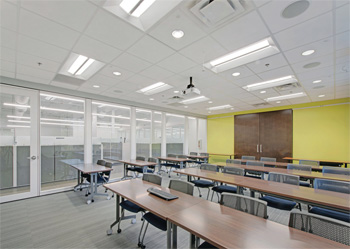 To read this article in its entirety, click here...